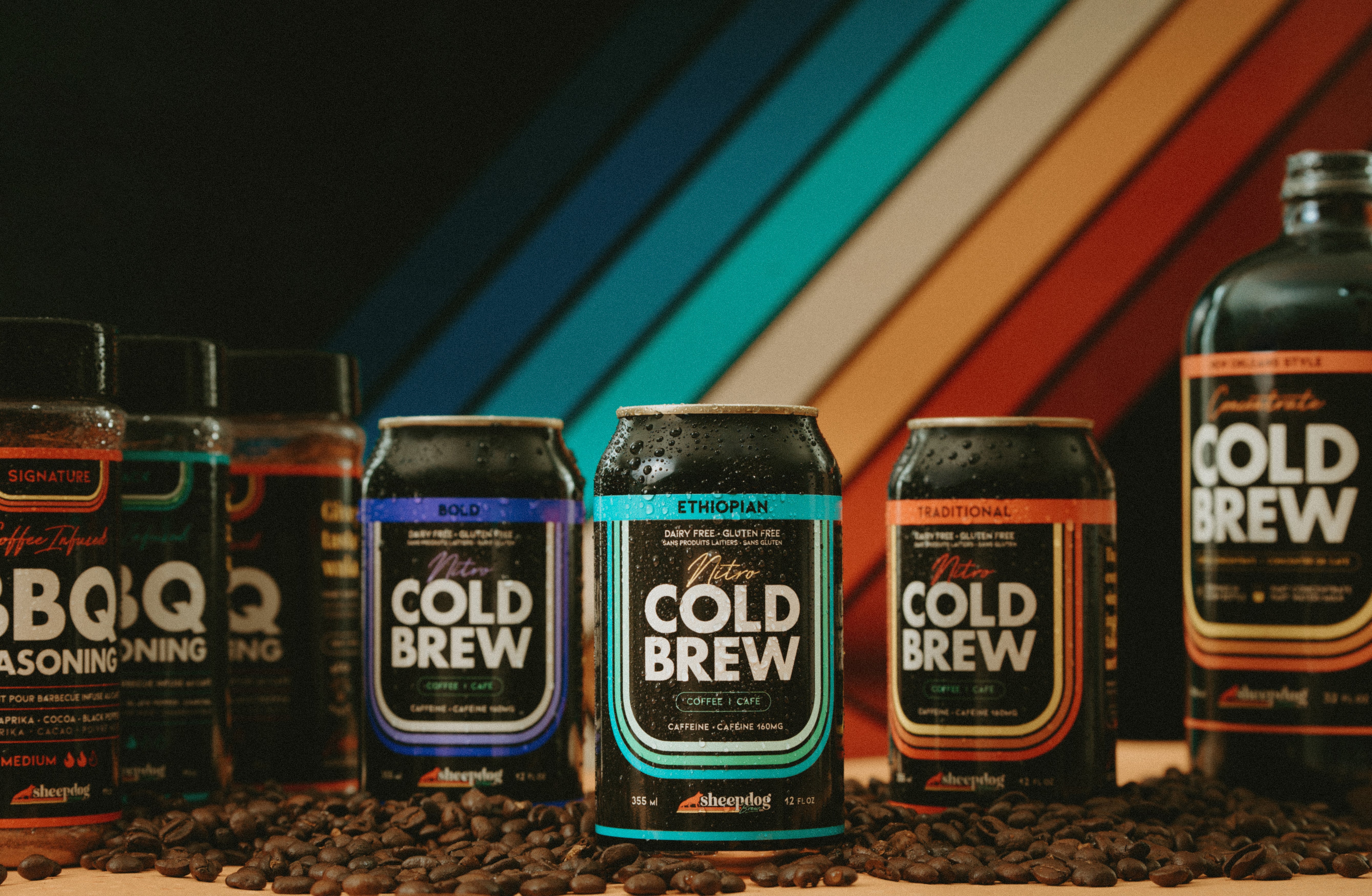 We're a group of everyday people who cold brew the best tasting - in our humble opinion, grab-n-go anytime coffee!
We're driven by perfecting our process and bettering our product for our customer and the environment. We use simple, real ingredients, no preservatives and bold flavours - ultimately, we're creating a beverage company we feel good about sharing with our community and the world! Outside of coffee, we enjoy time with our families, our dogs and adventuring in the great outdoors.
But the story of Sheepdog isn't just about us, it's about you too. We believe every day is your day and the best days are not behind you, they are right here, right now and Sheepdog is one small step in grabbing the leash on life and making it yours! We'll be right here beside you, enjoy the ride.
The Cold Brew Experience
Our flagship line of refreshing cold brew is naturally caffeinated and delivers a flavour forward drinking experience!
Nitro Canned in our Winnipeg, Manitoba brewery, our meticulously crafted cold brew begins by cold soaking high quality, organic coffee grounds for 18 hours in cold water.
Following the cold soak, we filter the resulting coffee not once but twice, making sure all unwanted particles are out, and just flavour remains. The cold brew process leaves us with a velvety-smooth, less bitter and acidic bold-flavoured coffee.
Extracting the bold flavours is just the beginning. What sets Sheepdog apart is our less-is-more approach - no ingredients you can't pronounce, no preservatives and pure freshness. If you are getting thirsty just reading this, we're kindred spirits.
Sheepdog's flagship line of refreshing cold brew is a naturally caffeinated and flavour forward drinking experience.  Organic, low in calories & as natural as possible, Sheepdog is about celebrating the good times by bringing a fourth-wave coffee movement to an audience and inspiring millions of people to make healthier drinking decisions along the way.
ZERO GUILT, ALL JOY
Refreshingly light with only 3 Calories and 0 grams of sugar per can. No Dairy, no allergens.
SWIFT KICK OF CAFFEINE
You get around the same level of caffeine as a regular medium espresso coffee. Our 355 ML cans contain approximately 148mg of caffeine.
ETHICALLY SOURCED
Highest quality, Rain Forest Alliance™ Organic beans from farmers and workers who are justly compensated.
SMOOOOOOOTH
Our cold brew is 3/4 less acidic than hot brewed coffee. Cold Brewed,
cold filtered & cold filled, every can of Sheepdog delivers
roundness and pure coffee flavour.
INGREDIENTS YOU CAN PRONOUNCE
No chemistry degree required. All our ingredients are as real as can be.
NATURAL SOURCE OF ANTIOXIDANTS
We got your back, coffee prepared at low temperatures preserves a higher ratio of healthy antioxidants.
GLUTEN FREE
Sheepdog is gluten free, made from 100% non-gmo, Arabica Coffee.
AS NATURAL AS POSSIBLE
All natural ingredients, no preservatives or artificial whatevers.